Almond Recipes
now browsing by category
Fine food recipes with whole almonds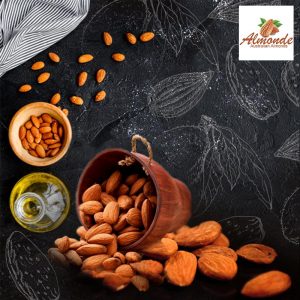 Almonds are a nutritious low carbohydrate food which can be easily carried on the go. Over the years in Australia as people have become aware of the health benefits which a handful of almonds give, the demand for almonds has gone high.
With the increase of Almond nuts in Australia, Almonde is in the best place to order raw and pesticide free almonds which will also be delivered to you quickly (overnight if you are in the suburbs of Sydney Melbourne and Brisbane).
You can try out many easy homemade recipes with almonds rather than buying it from the store like almond butter or almond milk. Ingredients required are raw almond nuts which have been soaked overnight. We also need 2-3 dates and a half a cup of berries along with two tablespoons of Cocoa powder, one teaspoon of vanilla extract and filtered water with some salt for taste.
Add the filtered water, the soaked almonds, and salt into a blender and blend it for about 2-3 minutes until it is smooth and creamy try to get most out of your almonds. Strain the almond milk into a mixing bowl and squeeze all the milk from the extract and transfer it into a jar and store it in a refrigerator. Shake it well always before drinking.
Buy bulk almonds from Almonde, a registered brand of wholesale food suppliers Opera Foods.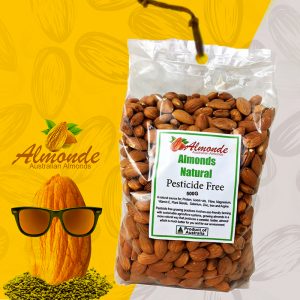 It is always cheap to buy raw almonds online than Almond butter. If you start making your own Almond butter at home you are roughly saving about $8 every time you do so.  The recipe for making Almond butter at home is very easy as all you need is raw almonds and a bit of salt or granulated sugar for your taste. You can buy raw almonds in bulk from our online store at a very affordable price and even get it delivered to your home.
Firstly heat the almonds in an oven for about ten minutes. Then keep it aside to cool down until the almonds are slightly warm but not extremely hot. Then transfer the almonds into the processor and start processing it until it appears creamy. You should stop the processor and scrape the sides after every 5 minutes but this entire process will take up to twenty-five minutes. The almonds will start breaking down into small crumbs and then into flour and lastly, it will turn into silky-smooth almond butter.
Once it becomes totally small and creamy you can (if your really must) add a little salt or granulated sugar for taste and transfer it into a glass jar and then store it in a cool place. Your Almond butter is ready and it generally lasts for a month.
If you keep it strictly healthy, without adding sugar or salt to the mix, Almond butter becomes a healthy topping for your Porridge, Smoothies or Acai Bowl ingredient.
Note: This article was in part reprinted with permission from:
Author: Opera Foods. "How to Make Almond Butter for your Smoothies", Opera Foods Wholesale Suppliers. Accessed 2019. How to Make Almond Butter for your Smoothies.  The Almonde brand is a wholly own subsidiary of Opera Foods Pty Ltd.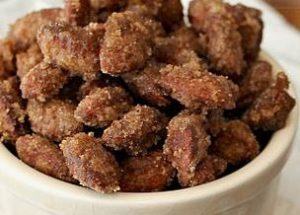 Sweet and crunchy cinnamon sugar candied almonds just like you get from the mall or a festival but made right in your slow cooker!
Ingredients
1.5 cups sugar
1.5 cups light brown sugar
3 Tablespoons cinnamon
⅛ teaspoon salt
1 egg white
2 teaspoons vanilla
4.5 cups raw almonds
¼ cup water
Spray your slow cooker with non-stick spray and set aside.
In a large bowl, add the sugar, brown sugar, cinnamon, and salt. Whisk together.
In another large bowl, add the egg white and vanilla and whisk until frothy.
Pour the almonds in the egg mixture and toss them around to coat thoroughly.
Pour the coated almonds into the sugar mixture and toss to coat.
Pour the entire mixture into the slow cooker and turn to low.
Cook for 3-3.5 hours, stirring every 20 minutes. It will look like not much is happening for a long time but your house will smell good!
After 3 hours, pour in the ¼ cup of water and stir well. This is going to make the crunchy coating and things will start looking right. Leave in the slow cooker for another 20-30 minutes.
Meanwhile, line a baking sheet with parchment paper.
When done, pour the almonds onto the prepared baking sheet and separate any that stuck together. Let them cool slightly to harden then enjoy!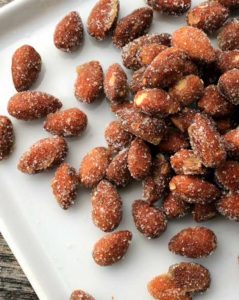 Make honey roasted almonds for your next party and everyone will be showering you with praise! And blaming you for dieting fails—you can't have just one!
4 cups Almonds, whole raw

Place two racks as close to the center of the oven as possible then preheat to 325 degrees. Line two rimmed baking sheets with parchment paper, divide the almonds into two portions then spread evenly between both baking sheets. Place almonds in the oven to toast for 10 minutes.
While the almonds roast, add honey and sugar to a small saucepan then place over medium heat. Bring mixture to a boil, ensuring that the sugar is completely dissolved. Let the mixture bubble for 2 minutes then remove from heat and set aside.
Remove almonds from the oven but leave the oven temperature set to 325 degrees. Transfer roasted almonds to a large bowl then pour in honey mixture. Stir to coat almonds evenly, working quickly to avoid it from setting up.
Transfer nuts back to parchment-lined baking sheets then spread into a thin layer, separating the nuts to avoid clumping. Return candied almonds to the oven then bake for 15 minutes. Remove from oven and cool completely.
Once almonds are completely cool, but slightly tacky, break up any clumps that are stuck together then set aside. In a large bowl, stir together fine sea salt and additional ½ cup of granulated sugar along with any spices you might like to accompany the almonds.
Add honey-roasted almonds to the bowl then toss until completely coated. At last, they are ready to eat! Store any leftovers in a tightly-sealed container for several weeks.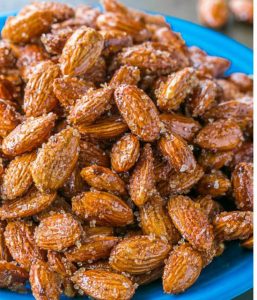 These spicy, roasted almonds with honey and raw sugar are addictive. This recipe is the best we've tried and we think you'll agree. Easy and not too sticky.
How to Make the best roasted almonds:

Preheat the oven to 350°F.
1. Line a large rimmed cookie sheet with parchment paper.

2. Mix 3/4 tsp kosher salt and 1/8 cup raw sugar.

3. Melt honey in a non-stick skillet over medium heat just until it's liquidy.

4. Add almonds and sprinkle with cayenne pepper. Mix until almonds are coated. Remove from heat.

5. Spread nuts in a single layer over the lined baking sheet. Bake for 10 minutes at 350°F.

6. Remove from oven and let almonds cool on the counter 5 minutes, then toss them in the raw sugar/salt mixture.

7. Place the almonds back onto the baking sheet or on the parchment paper and let them cool completely.

These spicy, roasted almonds with honey and raw sugar are addictive. This recipe is the best we've tried and we think you'll agree. Easy and not too sticky.

Now enjoy them. I wish we hadn't eaten them up so quickly!
Just 4 ingredients in these addicting sweet and salty almond clusters. Toasting the almonds turns them up a notch!
Ingredients
Vegan, Gluten free, Paleo
1 8 ounces (226g) semi-sweet or bittersweet chocolate
2 cups Diamond of whole almonds

METHOD
Once the melted chocolate and toasted almonds are perfectly combined, spoon into clusters, then sprinkle with sea salt and turbinado sugar. These two garnishes not only add a little exciting flavor, but a pleasant sweet and salty crunch as well. Essentially, those little sprinkles are everything. Which makes me realize how crazy fantastic actual sprinkles would be on top of these. Rainbow-topped sea salt dark chocolate clusters!! I'm doing it.
Maple Sesame Almonds (Vegan, Gluten Free)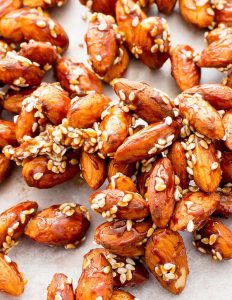 Maple Sesame Almonds (V+GF): An easy recipe for skillet-roasted maple sesame almonds made with just 6 ingredients. Vegan and Gluten Free.
Ingredients
Vegan, Gluten free, Paleo
2 cups Almonds, unsalted raw

Instructions

Place a large, nonstick skillet over medium-low heat. Add coconut oil, maple syrup, coconut sugar and salt. Stir until melted and smooth.
Add in almonds and increase heat to medium. Stir until almonds are thoroughly coated.
Stir occasionally (about once every few minutes), allowing almonds to soak in the sugar mixture. Watch the almonds closely. When the almonds become fragrant and smell roasted, you are close to being done. This will take 8-10 minutes. You'll know it's done when the sugar mixture is almost completely soaked up and the almonds are sticky like taffy.
Now, decrease the heat to low. Add in sesame seeds and stir until well incorporated. This will take 1-2 minutes.
Pour almonds onto the prepared baking sheet, creating an even, spread out layer. Set baking sheet on a cooling rack. Allow to cool for 1 hour. Enjoy!

Notes

– Store in an airtight container for up to 2 weeks.

Line a cookie sheet with parchment paper or greased foil. Set aside.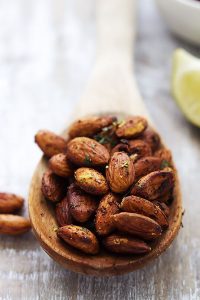 Crunchy pan-toasted almonds with hints of spicy chili and zesty lime – these are positively addictive! So quick, easy, and healthy too!
2 cups Diamond of  almonds, whole

the rundown.

Step 1 – add nuts and oil to pan, sprinkle with chili powder and salt and toast for 5 minutes.

Step 2 – remove from heat, stir in lime juice and chopped cilantro and allow to cool.

Step 3 – devour.