How to Make Almond Butter at Home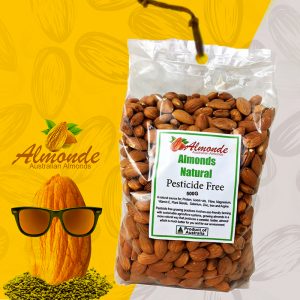 It is always cheap to buy raw almonds online than Almond butter. If you start making your own Almond butter at home you are roughly saving about $8 every time you do so.  The recipe for making Almond butter at home is very easy as all you need is raw almonds and a bit of salt or granulated sugar for your taste. You can buy raw almonds in bulk from our online store at a very affordable price and even get it delivered to your home.
Firstly heat the almonds in an oven for about ten minutes. Then keep it aside to cool down until the almonds are slightly warm but not extremely hot. Then transfer the almonds into the processor and start processing it until it appears creamy. You should stop the processor and scrape the sides after every 5 minutes but this entire process will take up to twenty-five minutes. The almonds will start breaking down into small crumbs and then into flour and lastly, it will turn into silky-smooth almond butter.
Once it becomes totally small and creamy you can (if your really must) add a little salt or granulated sugar for taste and transfer it into a glass jar and then store it in a cool place. Your Almond butter is ready and it generally lasts for a month.
If you keep it strictly healthy, without adding sugar or salt to the mix, Almond butter becomes a healthy topping for your Porridge, Smoothies or Acai Bowl ingredient.
Note: This article was in part reprinted with permission from:
Author: Opera Foods. "How to Make Almond Butter for your Smoothies", Opera Foods Wholesale Suppliers. Accessed 2019. How to Make Almond Butter for your Smoothies.  The Almonde brand is a wholly own subsidiary of Opera Foods Pty Ltd.