Honey Roasted Almonds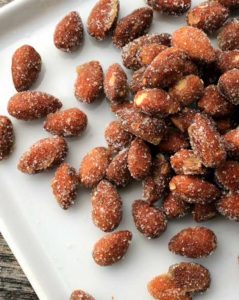 Make honey roasted almonds for your next party and everyone will be showering you with praise! And blaming you for dieting fails—you can't have just one!
4 cups Almonds, whole raw

Place two racks as close to the center of the oven as possible then preheat to 325 degrees. Line two rimmed baking sheets with parchment paper, divide the almonds into two portions then spread evenly between both baking sheets. Place almonds in the oven to toast for 10 minutes.
While the almonds roast, add honey and sugar to a small saucepan then place over medium heat. Bring mixture to a boil, ensuring that the sugar is completely dissolved. Let the mixture bubble for 2 minutes then remove from heat and set aside.
Remove almonds from the oven but leave the oven temperature set to 325 degrees. Transfer roasted almonds to a large bowl then pour in honey mixture. Stir to coat almonds evenly, working quickly to avoid it from setting up.
Transfer nuts back to parchment-lined baking sheets then spread into a thin layer, separating the nuts to avoid clumping. Return candied almonds to the oven then bake for 15 minutes. Remove from oven and cool completely.
Once almonds are completely cool, but slightly tacky, break up any clumps that are stuck together then set aside. In a large bowl, stir together fine sea salt and additional ½ cup of granulated sugar along with any spices you might like to accompany the almonds.
Add honey-roasted almonds to the bowl then toss until completely coated. At last, they are ready to eat! Store any leftovers in a tightly-sealed container for several weeks.