Almond Recipes
now browsing by category
Fine food recipes with whole almonds
Just 4 ingredients in these addicting sweet and salty almond clusters. Toasting the almonds turns them up a notch!
Ingredients
Vegan, Gluten free, Paleo
1 8 ounces (226g) semi-sweet or bittersweet chocolate
2 cups Diamond of whole almonds

METHOD
Once the melted chocolate and toasted almonds are perfectly combined, spoon into clusters, then sprinkle with sea salt and turbinado sugar. These two garnishes not only add a little exciting flavor, but a pleasant sweet and salty crunch as well. Essentially, those little sprinkles are everything. Which makes me realize how crazy fantastic actual sprinkles would be on top of these. Rainbow-topped sea salt dark chocolate clusters!! I'm doing it.
Maple Sesame Almonds (Vegan, Gluten Free)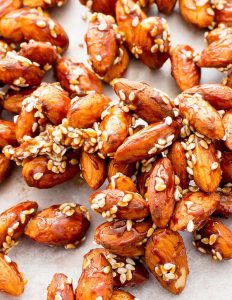 Maple Sesame Almonds (V+GF): An easy recipe for skillet-roasted maple sesame almonds made with just 6 ingredients. Vegan and Gluten Free.
Ingredients
Vegan, Gluten free, Paleo
2 cups Almonds, unsalted raw

Instructions

Place a large, nonstick skillet over medium-low heat. Add coconut oil, maple syrup, coconut sugar and salt. Stir until melted and smooth.
Add in almonds and increase heat to medium. Stir until almonds are thoroughly coated.
Stir occasionally (about once every few minutes), allowing almonds to soak in the sugar mixture. Watch the almonds closely. When the almonds become fragrant and smell roasted, you are close to being done. This will take 8-10 minutes. You'll know it's done when the sugar mixture is almost completely soaked up and the almonds are sticky like taffy.
Now, decrease the heat to low. Add in sesame seeds and stir until well incorporated. This will take 1-2 minutes.
Pour almonds onto the prepared baking sheet, creating an even, spread out layer. Set baking sheet on a cooling rack. Allow to cool for 1 hour. Enjoy!

Notes

– Store in an airtight container for up to 2 weeks.

Line a cookie sheet with parchment paper or greased foil. Set aside.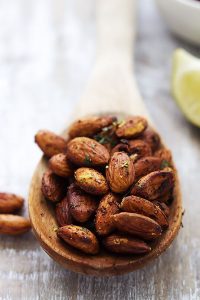 Crunchy pan-toasted almonds with hints of spicy chili and zesty lime – these are positively addictive! So quick, easy, and healthy too!
2 cups Diamond of  almonds, whole

the rundown.

Step 1 – add nuts and oil to pan, sprinkle with chili powder and salt and toast for 5 minutes.

Step 2 – remove from heat, stir in lime juice and chopped cilantro and allow to cool.

Step 3 – devour.