almond recipes
now browsing by tag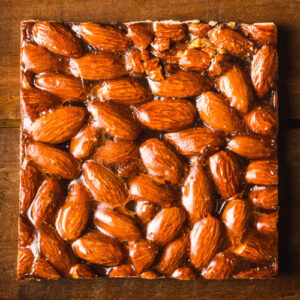 Found in variations across the world, almond brittle is a crisp toffee-like confection of sugar and almonds. Known in France as croquante, in Italy as croccante, and as torrone Siciliano in Sicily, it is widely associated with Christmas yet available all year round. Wrapped in cellophane, with maybe a ribbon or two, it is certainly hard to resist.
As a pastry chefs staple, the technique of bonding nuts in hard caramel forms the basis of many of dessert; classic or otherwise. The single almond, with its spear of hard crack caramel pointing skywards, or dramatic glassy shards added to create texture and height. Grind those shards to a fine powder and scatter it like crystal fairy dust for yet another dimension.
Smash it, bash it, leave it break-your-teeth whole. Almond brittle is something we simply can't get enough of.
And as if that weren't enough, almond brittle is sometimes then dipped, or coated, in chocolate. Time for a happy dance.
How to make almond brittle
There are so many variations of this simple recipe, all following along the same lines yet with slight differences. Some recipes use a classic caramel, made from just sugar, whilst others add water and/or butter. Most recipes use whole almonds, although variations can be found that use chopped, flaked or slivered almonds. Most recipes specify whole, unpeeled almonds but you could use blanched almonds if you wish. There's more on blanched almonds here.
And finally, although a classic almond brittle is kept as simple as possible, you can take it wherever you want in terms of flavour. Use salted almonds, or smoked almonds. You can add spices to your almonds, such as cinnamon. Maybe add a little miso to the mix.
Regardless of the exact recipe you choose to follow, you will want to begin with toasted almonds. Here's some ideas for toasting almonds.
The toasted almonds are stirred into skin-blisteringly hot caramel (that's your skin not theirs) and spread flat on a tray to cool and harden. It is deceptively simple, and not without peril. You need to be focused, paying attention to detail, and taking care. Boiling sugar is really really hot. And it sticks.
Almond brittle recipe
We are going to keep it classic. The recipe makes a deep dark caramel with a grown up edge that borders on bitter. Made in the traditional way, with just sugar, it is actually quicker and easier than labouring over a pan of water, sugar and butter.
Ingredients
500g sugar
500g whole almonds 
half a lemon
Toast and cool your almonds, as described earlier.
Line a flat baking sheet with baking parchment (sprinkle a little water on the tin first so the paper sticks) and grease with olive oil.
Place a frying pan over a low heat and add the sugar. As it begins to melt, shake the pan. Do not stir. If you really need to fiddle with it, use a wet pastry brush to clean down the sides of the pan.
Keep shaking it occasionally until all the sugar has melted and you have a dark amber caramel.
Tip in the almonds and stir to coat using a wooden spoon. Work quickly.
Tip onto your prepared baking sheet, tilting the tray to level it out.
Once cool enough to touch, wet your fingers and press the surface to even it out. It will cool and solidify very quickly.
Rub the surface with the cut lemon. This will add a professional shine and a hint of acidity to the flavour.
Either cut with a large knife before it cools completely solid, or break into shards once brittle.
How to make chocolate almond brittle
Once you have cut or broken your almond brittle, you can take it one step further and dip it in chocolate. Anything goes here. You can fully submerge it in chocolate, or just a quick dip of the underside to form a thin layer. Or dip a corner. Maybe dip the bottom, and drizzle across the top using a different type of chocolate.
Find out how to temper chocolate in our article on making chocolate bark.
How to store almond brittle
Sugar is a humectant, which means it attracts water. The last place it wants to be is the fridge. Ideally it wants to be kept in a cool dark place, and away from air. Wrapped in cellophane and kept in an airtight tin, it will keep for several months.
Why not check out our other great ideas for using almonds?
Did you know it can be way more cost effective to buy almonds in bulk?
---
This article was reproduced on this site with permission from operafoods.com.au the "Online Bulk Foods Grocer".
See original article:- How to make Almond Nut Brittle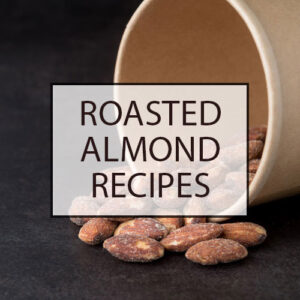 Raw almonds are a lovely thing, with their solid crunch and creamy nutty flavour. In fact, they are pretty much the ideal snack. But lets face it, there are times when you just want something…more. Enter, roasted almonds. All the fun of a bar snack, with better credentials.
Making your own roasted almonds is not only cheaper but also gives you way greater control over the ingredients. Best of all, you know they are fresh.
Roasting almonds transforms the texture into something altogether more crisp and deepens those natural nutty tones.
How to roast almonds
Almonds are roasted in the oven, with or without oil. Using oil makes them more crisp and adds an extra dimension of flavour. You can use any oil you like; olive oil or coconut oil both work well. You will need a good solid roasting sheet and a pre-heated oven. Moving them around occasionally helps them to roast evenly, so have a spatula at the ready too. Note to self…roasted nuts get really hot so don't go touching them with your bare hands.
How long do you roast almonds?
Nuts take about 15 minutes to roast, but you need to keep a close eye on them as they can go from 0 to 60 super quickly. Anywhere between 8 to 12 minutes is usually optimal. You will need to stir them several times for best results.
What is the best temperature to roast almonds?
Roast your nuts at 350F/180C/Gas 4.
Soaking and roasting almonds
Activated almonds, or soaked almonds, are soaked in salted water and then dried at low temperatures in a dehydrator where they become crisp yet not technically roasted. They can also be soaked and then roasted. Soaking almonds is said to be beneficial to digestion and increase the availability of nutrients in nuts, yet anti-oxidant vitamin E can be lost at the higher temperatures required for roasting. To prevent degradation of these volatile vitamins you would need to go as low as 120F/50C which is nearer to dehydration temperature than roasting. Feel free to experiment with times and temperatures but we would suggest that if nutrition is your main goal then choose soaking followed by dehydration, but when flavour is more important then stick with roasting. Either way you will benefit from the nutritional properties of almonds.
How to season roasted almonds
When it comes to roasting nuts, salt is essential. But all too often it coats unevenly, or just falls off altogether. This is where brining comes in, and it is how the commercial producers get those perfectly salted almonds. The nuts are soaked in a simple brine solution for 20 minutes, drained, and roasted. You don't need to add any oil.
For 500g almonds (that's roughly 4 cups), dissolve 2 tbsp sea salt in 1 cup of hot water. Soak the almonds for 20 minutes and then drain off the brine. Roast in a single layer on a baking tray at 180C for about 15 minutes, turning every 5 minutes. If you wish, you can toss the cooling almonds in a tbsp oil and add a scatter more salt.
Almonds also roast well when tossed in ground spices and oil. You can pretty much use any spices you wish, but take care as some have a tendency to burn more easily than others. Paprika for instance.
Roasted almonds recipes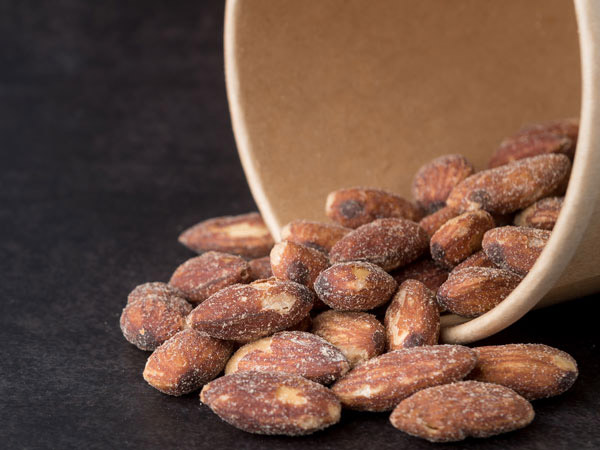 Honey roasted almonds
2 cups raw Australian almonds
1 tbsp oil
2 tbsp honey
1/2 tsp cinnamon
1/2 tsp fine sea salt
Line a baking tray with parchment paper
Preheat the oven to 180C/350F/Gas 4
Toss the almonds in the oil and spread on the tray
Bake for 5 minutes.
Tip the now warm almonds into a bowl with the honey, salt and cinnamon.
Stir to combine.
Return to the baking tray and bake for a further 10 minutes, stirring occasionally.
Remove from the oven and cool on the tray.
Coconut roasted almonds
Follow the above recipe but omit the cinnamon and stir in 1/3 cup dessicated coconut. You could add a touch of vanilla paste.
Chilli roasted almonds
2 cups raw Australian almonds
2 tbsp oil 
1/2 tsp cayenne pepper
1/2 tsp ground cumin
1/2 tsp ground chipotle
1/2 tsp fine sea salt
Follow the instructions for the above but bake for 10 minutes at the initial stage
Toss the nuts in the spices and return to the oven for 5 minutes.
Leave on the tray to cool.
Cocoa roasted almonds
Add two teaspoons raw cacao powder to the honey in the first recipe.
Savoury roasted almonds
Toss almonds in soy sauce and sesame oil before roasting.
If you are looking for cost effective ways to stay healthy then you could buy almonds in bulk. Or why not do all your bulk shopping at our online store?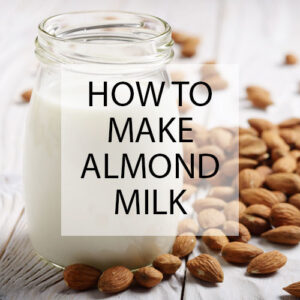 In order to add body and frothing capabilities to commercial almond milk, manufacturers often add various fillers and additives.
Learning how to make almond milk at home gives you total control over the ingredients used. The result will be naturally thick and creamy almond milk.
How is almond milk made in a factory?
Most commercial almond milk is made from Californian almonds. There, the demand is high and the supply unsustainable. A process causing damage to an already fragile ecosystem.  Almond milk has been around for centuries but the process came under mass commercialisation just over a decade ago, putting wildlife under threat and endangering the honeybee.
Most industrially produced almond milk contains around 2% almonds. This results in a thin flavourless liquid, which is why so many cartons of almond milk come with a long list of ingredients.  Added to provide body and flavour, these extra ingredients may be naturally derived yet are still additives nonetheless.
How to make almond milk at home
To make almond milk you will need fresh, whole, almonds and water. Go for filtered water if that is what you would normally drink at home. You will also need a blender, a sieve, and a clean tea towel or cloth. And a bowl large enough to sit the sieve in.
You may wish to add flavour to your almond milk with a little cinnamon or vanilla. A word to the wise – do try homemade almond milk once before deciding it needs flavouring. Almonds are naturally creamy so the stuff you make is way different to the store bought variety.
The best way to avoid sustainability issues around your almond consumption is to buy local. We wrote all about sustainable Australian almonds and how they are produced, right here.
To make roughly 1 litre of creamy almond milk you will need 1 cup almonds and 4 cups water. You can adjust the ratio of almonds to water depending on how thick you want the result to be. Remember that we said there is about 2% almonds in commercial almond milk? Using 4 cups of water brings that percentage up to 25%, so you can imagine the difference.
Blitz the almonds with the water for about 3 minutes or until the almonds are completely blended. Place the sieve over the bowl, and line with the cloth. Pour in the blitzed liquid and leave to strain until the residue is almost dry. You can give it a helping hand by squeezing the cloth as if you are wringing out a dishtowel. Which, strictly speaking, you are. Pour the resulting almond milk into a container and keep in the fridge for up to 4 days.
Don't waste the strained nutritious fibre remaining. Sprinkle it on your granola or add it to a Chinese recipe. You can even use almond pulp to make almond meal.
Why not save money and buy almonds in bulk or check out the rest of our wholefoods bulk groceries at our wholesale store
Homemade almond butter is way better than the store bought stuff. Not only does it taste great but it costs less to make too.
Roasting your own almonds before blitzing them means you can have full control on the oil and salt content, as well as whatever else may be lurking in commercial almond butter.
Buying almonds in bulk quantities is by far the most cost effective way to make all of your almond based recipes. Why not have a go at making your own almond butter and see just how easy it is to make something nutritious and delicious.
The nutritional benefits of almond butter
Although most of us eat almond butter because it tastes good, we also choose it above peanut butter because of its nutritional content. It is an excellent way to add fats and protein to your breakfast or smoothie, and will keep you feeling satisfied for longer. Spread it on wholegrain toast with a sliced banana for a healthy breakfast, or add a spoonful to a 3pm cacao smoothie for an afternoon energy boost. (We discuss the benefits of cacao vs cocoa here) Either way it will help slow down the digestion of sugars and help to balance your blood sugar levels.
Almond butter is full of monounsaturated fats to help protect against heart disease. Almonds are also one of the best sources of antioxidant Vitamin E, and contain magnesium that helps to control blood pressure.
Find out more about Australian almonds and the nutritional benefits of almond butter…
How to make homemade almond butter
Whilst you can use raw almonds to make a creamy smooth nut butter, most of us prefer that roasty toasty just slightly salted thing that we associate with peanut butter. The stuff that sticks to the roof of your mouth. You don't need to add oil, although adding a touch will help them along nicely. You could also experiment with adding sweet tones to the roasting tray, such as a shake of cinnamon and a drizzle of honey. Or up the savoury ante by tossing them in paprika and a tiny amount of celery salt. Any liquids or syrups need to be added at the roasting stage or it may not come together properly.
To make almond butter you need at least 3 cups of almonds in order to cover the processor blades. Roast them in a moderate oven on a baking tray, with a little oil and salt if you wish, for about 10 minutes. 180C should do it. Leave to cool for a further 10 minutes. They will blitz nicely if still slightly warm.
Can you make almond butter in a blender?
Yes you can make almond butter in a blender but it really needs to be a more powerful type with robust blades and a decent motor. It will actually take less time than in the processor, but you need to be careful to pulse so as not to burn the motor out. An extra quarter cupful of oil helps it along. Add your roasted almonds to the blender cup, along with a few tablespoons of oil, and blitz until you have a smooth semi liquid nut butter. You will need to scrape the sides down a few times, and use the rest of the oil if required. If you really want to make the almond butter with no added oil, then whether you get away it will depend your particular blender.
To make the almond butter in a food processor, add the roasted and cooled almonds to the processor bowl and fix on the lid. Set running at a medium speed and keep it going for about 10 minutes. You will have what looks like almond meal for about 8 of those minutes, but eventually it will come together. Once it has formed a mass like pastry, it will start to break down and form gooey butter.
Does almond butter have to be refrigerated?
It is best to keep your almond butter in the fridge as it does not contain any preservatives. The high fat content of nuts means they can turn rancid quickly. You can keep it in the fridge for several weeks. If it gets that far.
Remember that it is way cheaper to buy almonds in bulk. Consider buying bulk chipped and broken almonds for your nut butter, it will help your money go even further. Look for even greater savings at our bulk food store.