Fast Chili Lime Almonds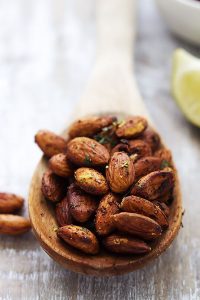 Crunchy pan-toasted almonds with hints of spicy chili and zesty lime – these are positively addictive! So quick, easy, and healthy too!
2 cups Diamond of  almonds, whole

the rundown.

Step 1 – add nuts and oil to pan, sprinkle with chili powder and salt and toast for 5 minutes.

Step 2 – remove from heat, stir in lime juice and chopped cilantro and allow to cool.

Step 3 – devour.