Almonds are the Secret to a Healthy Body and Mind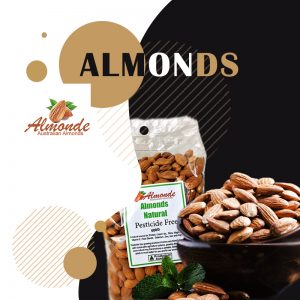 Be it for glowing skin or for weight loss, be it for a school going kid or for a man, who works throughout the week, or for a healthier mind and beautiful hair. Almonds have always been that secret super food which provides you with the essential vitamins and nutrients to achieve these results within a short period of time.
Raw Almonds are a rich source of Vitamin E which removes the dark spots and acne from your skin. They also help in the rejuvenation of our skin and boost our memory power to a great extent. Almond milk and Almond oil are also very effective and useful to us in our daily life. Almond milk strengthens our body and improves the immune and digestive system while almond oil promotes hair growth. Almond Oil also has several anti-aging properties in them which give you a beautiful skin tone along with a healthy mind.
Almonde is a brand which specializes only in pesticide-free almonds. We are a family owned business who have been distributing high-grade almonds in Sydney, Brisbane, and Melbourne. You can order bulk almonds from our parent company Opera Foods to avail affordable rates and huge discounts.