Almonds are a Healthy Nutritious Superfood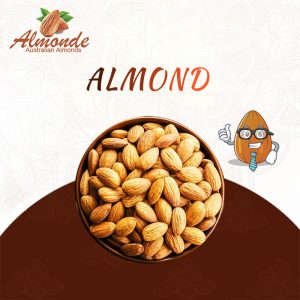 Almonde distributes bulk lots of high quality, raw Australian pesticide free almonds and most importantly, our growers practice natural farming systems for producing healthy almonds in Australia. Almonde is owned and conducted by an Australian family business.
Almonds are rich in fats, protein, fiber, magnesium as well as vitamin E that help to prevent against severe illness.
Almonds can be eaten raw, toasted or can be eaten soaked in milk and many other ways. According to the modern sciences of Australia, almond nuts help to reduce blood sugar and cholesterol levels as they contain large amounts of protein and fiber.
Almonds are regarded as seeds rather than considered as true nuts. Almonds contain powerful toxins that may help to reduce the risk of causing cancer and other severe diseases. It may also aid to lower heart diseases and Alzheimer as almonds possess vitamin E and magnesium.
Buy bulk pesticide free raw natural almonds from Almonde or online direct through our parent company website at Opera Foods.